Distinguished Lecture Series: Bruno Hellendorff (November 5, 2019)
페이지 정보

작성자
관리자
댓글
0건
조회
392회
작성일

20-04-17 14:42
본문
Distinguished Lecture Series: ​The EU's Strategy on China's Belt and Road Initiative: Relationships to Third Countries
Lecture by: ​Bruno Hellendorf
Date: ​Novemver 5, 2018
Venue: ​International Hall #219
Co-hosted by: the KU Jean Monnet Centre of Excellence and the Korea University Nordic-Benelux Center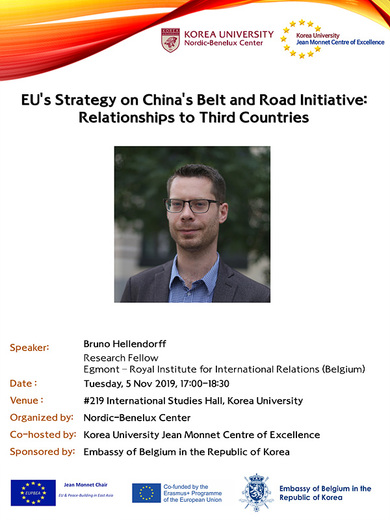 On November 5, for our second Distinguished Lecture Series of 2019 Fall semester,  
our centre was grateful to host Bruno Hellendorff of Egmont - Royal Institute for International Relations (Belgium). 
Bruno Hellendorff presented his lecture on the "EU's Strategy on China's Belt and Road Initiative: Relationships to Third Countries." 
The event was co-hosted by the Korea University Nordic-Benelux Center and the KU Jean Monnet Centre of Excellence.