Call for Application: Model European Union 2020
페이지 정보

작성자
관리자
댓글
0건
조회
164회
작성일

20-08-13 14:06
본문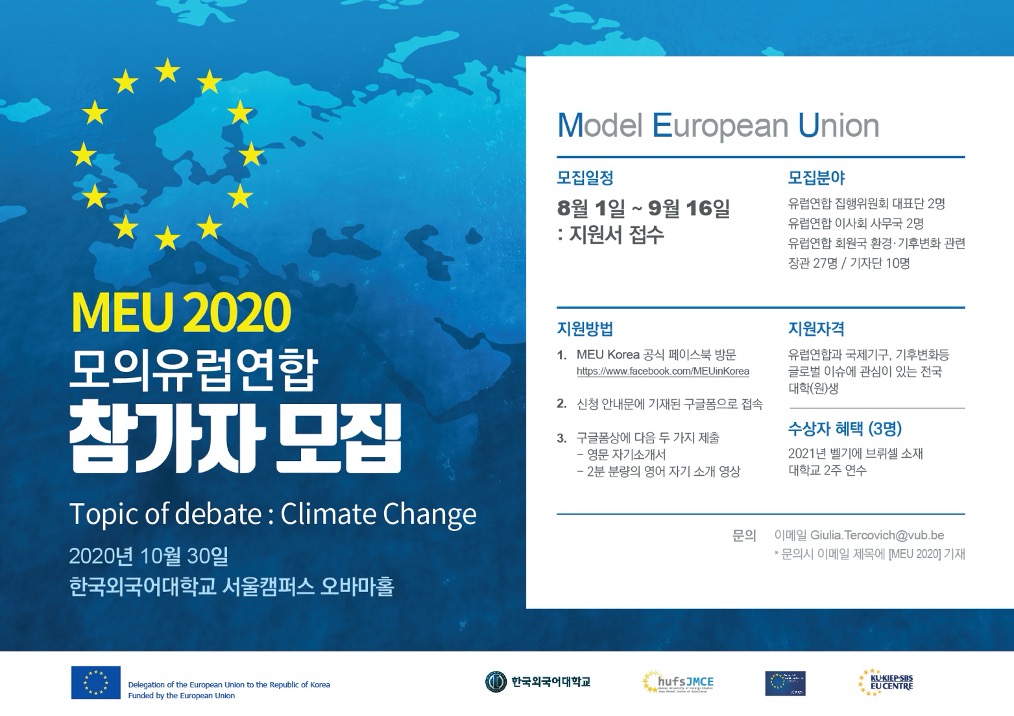 The Delegation of the European Union (EU) to the Republic of Korea is looking for talented and ambitious students to partake in the MEU2020 simulation, co-hosted by the three Jean Monnet EU Centres of Hankuk University of Foreign Studies, Yonsei University, and Korea University. MEU2020 will take place at the Obama Hall in Hankuk University of Foreign Studies on Friday 30th October 2020 as a full-day event. The MEU2020 will discuss climate and environment in the setting similar to the Council of the European Union.
Recruiting Positions
·       Two EU Commission representatives
·       Two Secretariat of the Council of the European Union representatives
·       National ministers for the environment and climate change of the 27 EU Member States
·       Ten Journalists
Documents to submit
·       CV (English)
·       2-min video (English) - including the applicant's qualifications, skills, and motivations for this competition
* Please upload your application (CV and video) to the following link: [https://bit.ly/MEU2020]
   By September 16th, 2020 (Wednesday)
* Selected candidates will be notified shortly by no later than September 21st, 2020 (Monday)
Selection Criteria
·       Motivation and good command of English
·       Prior participation to similar simulations
* The selection will be gender-balanced to offer equal opportunities to both men and women.
Preparing for MEU 2020
Selected candidates will be required to complete a 10-hour online training programme before the event. This training aims to:
·       Provide the necessary background information to prepare for the MEU2020 
·       Provide an introduction to the European Union, an overview of the EU's approach to environmental and climate change challenges
·       Provide detailed guidelines on the roles and procedures of the Council of the EU.
·       The online training is free of charge / Present in English/ Provide Korean MEU Guide 
Honors
·       The three most outstanding participants will be offered a chance to travel to Brussels (Belgium) for a summer school program for two weeks (Travel and accommodation costs, and the tuition fee for the summer school program will be provided).
·       All participants will receive a Certificate of Participation signed by the EU Ambassador to the Republic of Korea.
Contact
Should you need any further information, please contact
 Giulia.Tercovich@vub.be  and make sure to add 'MEU 2020" for the subject.
MEU 2020 offers a unique opportunity to learn more about the European Union, and its efforts to fight climate change. Academically, it will enhance your knowledge about the EU-ROK Strategic Partnership as well as the environmental challenges both parties are faced with. In terms of soft skills, MEU 2020 will improve your public speaking, conflict resolution, and negotiation skills. 
We look forward to your active participation.
Model European Union In Korea : www.facebook/MEUinKorea